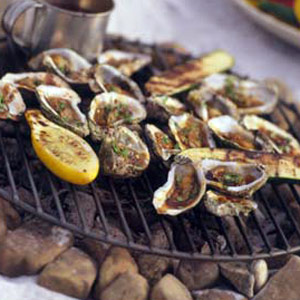 Almost any time of year, we enjoy fresh seafood from the beautiful Mendocino coast. Complementing our luscious new Rosé of Grenache, Fantasie, one of our favorites is fresh oysters from our local fish monger. Either raw or prepared several ways, we can't get enough of them. One of the easiest preparations is to barbecue them lightly whole on the grill. Fast, delicious, and nobody has to get stabbed in the hand shucking fresh oysters!
Ingredients
12 fresh oysters, in shell
juice of one lemons
1/4 cup plain butter
1 tsp fresh minced garlic
salt
Preparation
Preheat an outdoor grill for high heat.
Place whole oysters on the hot grill and cook until they open, 5 to 10 minutes. Be sure to place the oysters with the flat side up so the brine does not drip out as they open on the grill.
Remove the oysters from the grill, and pry off the top shell. You may want to wear some heavy gloves to protect from the heat. Slide a dull knife between the oyster and shell to disconnect. They should come off easily. If the shell does not open, discard, its not a good oyster.
Melt butter in a small saucepan and add minced garlic, lemon and salt to taste. Top each oyster with 2 tsps melted butter mixture and serve in the shell while still warm.