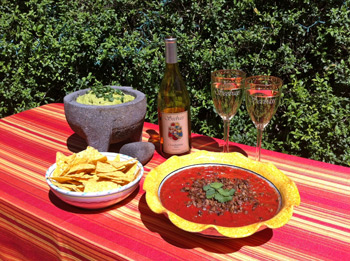 Michelle's father loved California, and the fresh produce always coming into season. His favorite time of year was tomato season, when he would visit the local farm and pick his own tomatoes, long before it was fashionable to do so. He would eat tomatoes with every meal while they were in season, and then not eat one the rest of the year. On one occasion, he invited 12 of his dearest friends for a 6 course, all-tomato meal, from appetizers to desert—we still talk about that epic dinner.
This recipe calls for pulsing, rather than blending the ingredients which Dad enjoyed because it retained a chunkier consistency, rather than a puree. Serve this on a hot late-summer day with homemade guacamole and chips, a chilled glass of Seebass Chardonnay and the vistas of your choice. Enjoy!
5 lbs. Tomatoes, red ripe, seeds removed
1 yellow onion
2 cloves garlic, crushed
1 tbsp olive oil
1 each English cucumber, seeded and chopped
12 ripe black olives
½ cup Seebass Vineyards Chardonnay
Salt, pepper, sugar, and parsley
In a food processor, pulse tomatoes, onions, garlic, paprika, and wine. Add salt and pepper, and sugar to taste. Blend in olive oil. Keep refrigerated, best for 12-18 hours, and serve cold.
Before serving, mix in the chopped cucumber and olives. Garnish with chopped parsley.