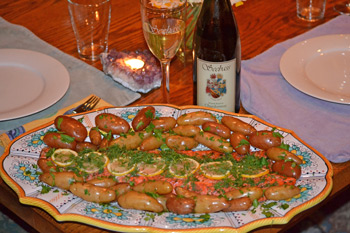 This time of year is wonderful for seafood on the North Coast. In Mendocino we're blessed with several great fish suppliers. This is a recipe we make for friends or larger gatherings with a whole fillet, or with several smaller fillets for a regular evening meal. Its easy, quick, healthy and only requires a few fresh ingredients. It pairs beautifully with our 2011 Grand Reserve Chardonnay. Salut!
1 whole fillet wild salmon
1 lb. fingerling potatoes – scrubbed
2 heads winter greens sliced thin (almost any will do – Swiss Chard, Kale, Collard Greens, Dandelion, etc.)
2 cloves chopped garlic
3 Tbsp olive oil
1 lemon, thinly sliced
3 Tbsp Fresh dill, roughly chopped
Sea salt
Black pepper
1. Preheat the oven's broiler and set the oven rack about 6 inches from the heat source.
2. Line a baking sheet with parchment paper or aluminum foil, and spray with nonstick spray.
3. In a medium saucepan, cover potatoes with cold water, add 1 tsp salt, and boil gently for ~ 10 min, until tender. Remove from heat, and drizzle with a small amount of olive oil.
4. Gently remove pin bones from salmon with small pliers (the bones felt in the middle of the thicker part of the fillet) and generously salt and pepper both meat and skin side.
5. Place salmon on baking sheet and lightly oil with ~ 1 Tbsp olive oil. Sprinkle with dill, and place lemon slices along top.
6. Broil salmon in preheated oven for 5-7 minutes, depending on thickness – test by inserting a knife between flakes – it should be opaque, but not dry. Remove from oven and let rest.
7. In a large sauté pan, heat 2 Tbsp olive oil on medium temp. Add chopped greens and lightly salt and pepper while still crisp. Stir greens until wilted, about 3 minutes, depending on variety. Remove promptly.
Plate salmon on a large, warmed platter, and surround with greens and potatoes. Serves 6.